Sunday, August 3rd 2008 - 9:31 pm by Aaron
Last weekend, I struck a few good deals on craigslist.org—we got a baby bike seat and helmet for Christian so, theoretically, we can go out and get some exercise (now, if only we could buy some cooler weather so exercising would be more comfortable. And maybe, while we're at it, we could find some extra energy. And time. But I'm getting away from myself here). I also found a huge metal desk so I can put all my work junk somewhere besides the kitchen counter (better used for piling up dirty dishes), and the dining room table (better used for piling up dirty dishes). We spent $30 total, so I felt pretty good about my purchases. Christian wasn't so easy to please, however; he had to climb into the desk to inspect the craftmanship. Eventually, he discovered that it came with a set of keys, and that won him over. Now, if I could only figure out what he did with those keys!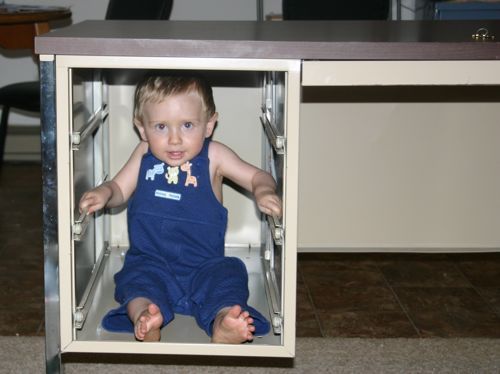 This weekend, we received a special delivery from the Bekin Man; he delivered my parents' old couch and chair to us. And boy are they old. Antique, actually. My parents recently had them re-upholstered, and they didn't like how they turned out. We did, and since we've been married for two years and still don't have a stitch of furniture to sit on, my parents shipped their old stuff out to us. Hankie wasn't so sure about these huge invaders of his space, but Christian found them comfortable enough. And yes, my livingroom is just as cluttered in real life as it looks in the picture.
Today, Aaron had his first balcony-garden harvest. He picked 18 green beans, and several onions (well, the onions are more like onion-flavored stalks, but who's keeping track of details, right?). He was so excited that he brought his camera to the dinner table and recorded his bounty for posterity. He's thinking of legally changing his name to "Farmer John," but I'm trying to talk him out of it. I mean, who wants their website designed by a guy named "Farmer?"