Saturday, August 1st 2009 - 10:37 pm by Aaron
I've been working on a big ol' mammoth post about our birthing experiences (kinda wanted to talk about our horrible hospital experience with Christian's birth, which led to our wonderful homebirth experience with Abby). Unfortunately, it's been a much, much bigger project to undertake than I ever could have possibly expected it to be. So until I get it all finished (assuming, at some point, that I actually DO finish it) I present to you:
Pictures of Our Children
Christian is learning lots of things—his ABCs, shapes, where his elbow is, and, most importantly, how to talk to the insurance company without throwing someone through the window. Obviously, he's still on hold, because, were he actually talking to an agent, he would NOT be smiling!
Abby is learning lots of things, too—like, how to make her mommy lose her mind. She's definitely a spunky little kid, taking on the world on her hands and knees like that. The bad thing is, is that I don't vacuum often enough, so every time she crawls off the edge of her blanket, she gets dog hair (and other unmentionable, nasty floor-type gunk) stuck between her fingers and balled up in her fists. Yummy.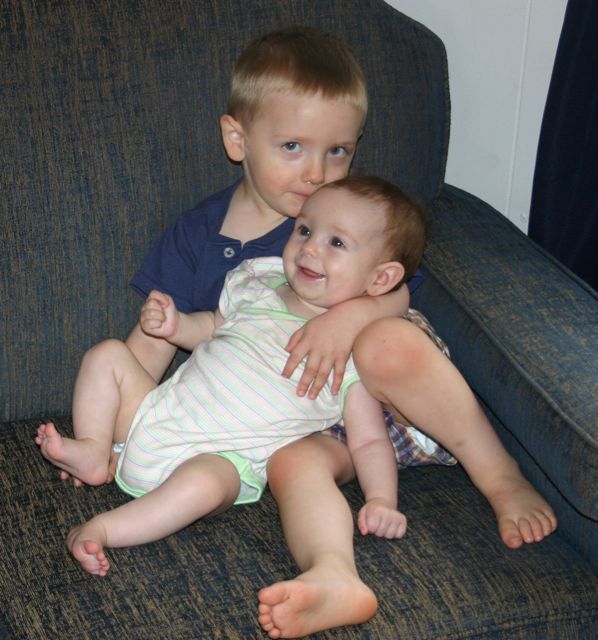 Christian loves being a big brother; he leaves his tiny, swallowable cars all over the floor for Abby to pick up, he brings her diapers to me when I forget to grab one before I've exposed her dangerous end to the upholstery, he gives her her rattles and picks up her blankies, and most of all, he loves holding his sissy. As long as she sits still. Which is pretty much never.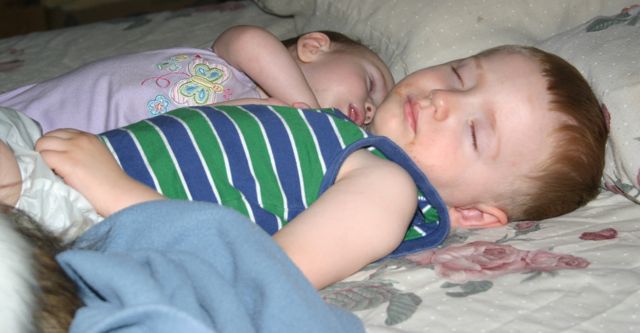 And here we have it folks! Never-before-seen photos of my kids doing what I never thought they were capable of: sleeping! Together! At the same time! See mommy smile! She is happy! Be happy with her! This is probably the only time anyone will ever see this happen!