Tuesday, March 16th 2010 - 10:06 pm by Aaron
Well, spring is almost here, and as usual, I am planning on having a garden.
Last year's didn't work out so well. I was so busy working that I didn't have time to weed, so most of it got overrun. I didn't get any onions, I only got a few small carrots (the slugs got into them). I didn't get any broccoli or cauliflower. The cayenne peppers, oregano, sage, rosemary, and thyme didn't even sprout (that I noticed). I did get some spinach, peas, beans, and squash. The lettuce bolted to seed, and I only got a few tiny radishes. The tomatoes did pretty well, but they froze before they ripened.
I have come to the conclusion that besides not having time to keep it up last year, many of the veggies did poorly because I did not get them started soon enough—especially the tomatoes and lettuce. They probably would have done better had I started them in protected planters too instead of sowing directly into the ground.
Anyway, this year I hope to do a little better, so a week ago I planted several seeds in a tray of pete pellets. Almost all of them have already sprouted, and some of them are already a few inches tall.
I'm also trying my hand at aquaponics this year. Basically it's growing plants hydroponically using water from a fish tank instead of water that has had plant nutrients artificially added. Bacteria in the tank breaks down the fish waste into chemicals which the plants use as nutrients—functioning as a filter and cleaning them from the water. I have a pump set to pump water from an aquarium to a storage bin which has plants suspended from the lid in such a way that the roots hang into the water. The water then drains back into the aquarium.
I have been transplanting some plants from the pete pellets as their roots become long enough to reach the water. Some have been in the tray for several days, and they are doing fine. So far, I have three pea plants, two tomatoe plants, four lettuce plants, and two spinnach plants. I plan on adding two cayanne pepper plants and a couple of herbs when their roots get big enough to reach the water.
---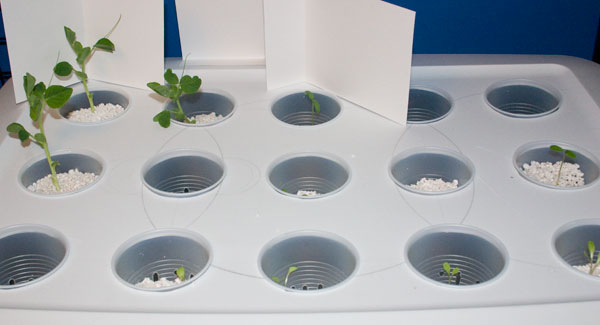 Tray of hydroponically growing plants. Each cup contains perlite and has holes in in through which the plants' roots hang into nutrient-rich water.
---
Full aquaponic setup with an aquarium containing eleven fish, a bin where plant's have roots suuspended in water, and a pump to send water from the aquarium to the plants.
---
Pea plant in a cup. The roots suspend into nutrient-rich aquarium water.
---
Roots inside the bin of nutrient-rich aquarium water. Also, a pipe that drains water back into the aquarium.