Sunday, April 25th 2010 - 8:06 pm by Aaron
Well, it has been seven weeks since I planted my seeds—about five and a half since I started transplanting seedlings into the aquaponics setup.
Everything is still going well, except that the spinach is not really leafing and one of them has started to bolt. I think having the light on late in the office is causing them to think the days are longer than they are.
My grow bed wasn't big enough for my tastes. I know an aquarium of that size can support more plants, so I got an eave trough, and trimmed it down to the length of the window. Now the water from the tank pumps into the trough (which is full of perlite), and drains from it back into the aquarium. I transplanted some onion seedlings which I had germinated in some moist perlite into it as well as planting some radish, chives, cucumbers, peppers, and leaf lettuce in it. The radish and lettuce seeds sprouted in a matter of days. I also transplanted some oregano and thyme sprouts into it.
The plants were turning a little yellow, so I added an air pump to get some more oxygen into the water. The nitrites in the tank are high, but the fish seem to be coping well. I am hoping the four feet of perlite in the trough will provide additional growing surface for the bacteria that break down the nitrites. I also added five more pounds of gravel to the aquarium to provide more surface area for the bacteria.
Today, I also planted 22 beans and 4 spinach outside, as well as transplanting 2 broccoli and 3 cauliflower. (Actually, there were more than that, but some of them shared the same pellet of peat.)
Aquaponic garden with the new trough
---
Closer view of the grow bed
---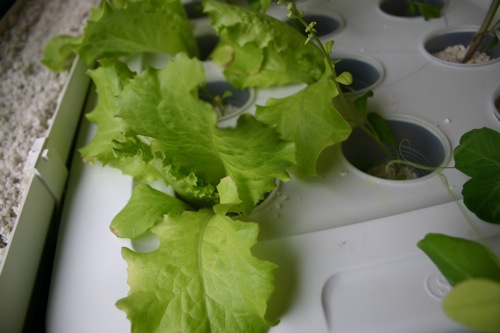 Iceberg lettuce
---
Cayenne peppers
---
Leaf lettuce seedlings in the new trough
---
Radish seedlings in the new trough
---
These pictures were taken one week after the pictures from the preceding post.