Sunday, September 26th 2010 - 3:58 pm by Aaron
My aquaponic garden got off to a really good start, but unfortunately, things slowed down once summer started. There were a couple of things that contributed to the problem—one, the tree in our yard got leafed out; and two, during the summer, the sun was too far up in the sky to really shine into the window. Since the plants weren't getting enough light, they never made it to flower. They did, however, keep growing. One of the tomato plants reached about seven and a half feet long.
Another problem was that I did not have anything to prop the tomatoes up with, so once they got about the height of the window, they flopped over and started crowding everything else out—this killed off the herbs that they covered up.
We did eat some of the lettuce despite the fact that it never formed a head, and I got one pea flower, but nothing came of that.
Now, as the sun has been lowering in the sky, the plants have started forming new growth, and their growth has accelerated in general, so I also got a four foot shop light which I have mounted on a wire shelf above the window. The light has grow lamps in it, and I have tied the plants up with string and cable ties hanging from the shelf. This has helped a lot, and I now have about ten cayenne peppers growing, in addition to fourteen more open pepper flowers, and two tomato flowers. There are more buds besides these, so I am hoping they will keep producing for a while.
I've been trimming back the tomatoes, because when they were just laying down, their leaves got damp, and they started forming some brown spots (one plant in particular).
I also planted some green beans it a few weeks ago which are getting ready to flower now, as well as some cucumbers and lettuce, which are still baby plants.
Although the summer growth was a little disappointing, I am optimistic that the plants will do better not that they have some light.
Aquaponic garden at month 6: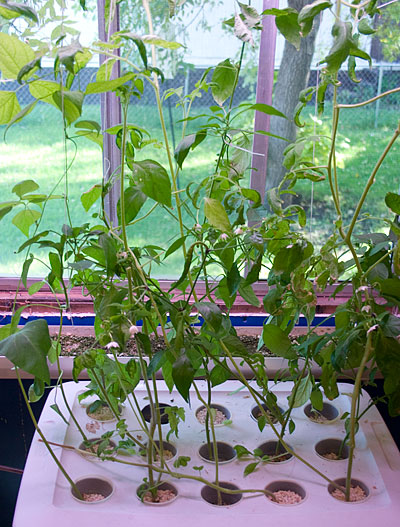 Cayenne pepper flowers and fruit:
Here are the fish feeding my aquaponic garden: